Conserving Parkway Lands for Natural and Community Health
In 1996, the Governor's Year of the Mountains Commission designated Conservation Trust for North Carolina to coordinate land protection along the Blue Ridge Parkway in North Carolina. We have successfully collaborated with local land trusts, the National Park Service and other public agencies, and private landowners to conserve over 34,000 acres in the region.
Display of CTNC protected areas, alongside all protected areas across North Carolina. Expand the legend by clicking ">>" in the top left corner. This shows the land protection categories displayed.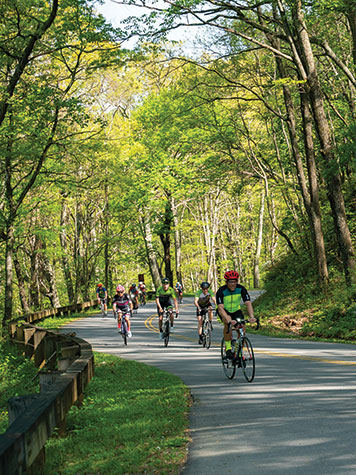 The Blue Ridge Parkway is a national treasure and a significant economic driver for Western North Carolina. As one of the most heavily-visited units of the National Park Service, the parkway attracts 14-16 million annual visitors and generates over $1 billion in revenue to nearby communities. Now more than ever, we are committed to conserving this treasured landscape.
We can't do this work without our partners.
The natural and cultural heritage of Western North Carolina face continued threats related to climate change, development, and resources for people and wildlife. CTNC factors these potential impacts into our ongoing land conservation efforts along the Blue Ridge Parkway and amplify that knowledge and expertise throughout the rest of the state. The lands we protect safeguard climate-resilient habitat, clean air, clean water, natural beauty, outdoor recreation, cultural heritage and community health and prosperity.
CTNC works collaboratively with land trusts, conservation organizations, and public agencies to protect land along the Blue Ridge Parkway.