A Conservation Focus Driven by Community Needs
Land conservation provides communities with cost-effective and long-term solutions that allow all people to share in the benefits of land, water, wildlife, and outdoor recreation. With land trusts, government agencies, and willing landowners, CTNC has successfully protected more than 34,000 acres along the Blue Ridge Parkway that now contribute to greater climate resiliency, no-cost access to outdoor recreation, and a thriving tourist economy for surrounding communities.
A Collaborative Approach at Waterrock Knob
Near the southern region of the Parkway, we are joined by a number of partners building a network of conserved lands around Waterrock Knob, in an effort to create a regional outdoor recreation destination. Our vision is a park area that exceeds 6,000 acres of conserved land. It will be the first large park-like addition to the Blue Ridge Parkway since the 3,200-acre Moses Cone Park and 4,300-acre Julian Price Park were added to the Parkway in the 1950s.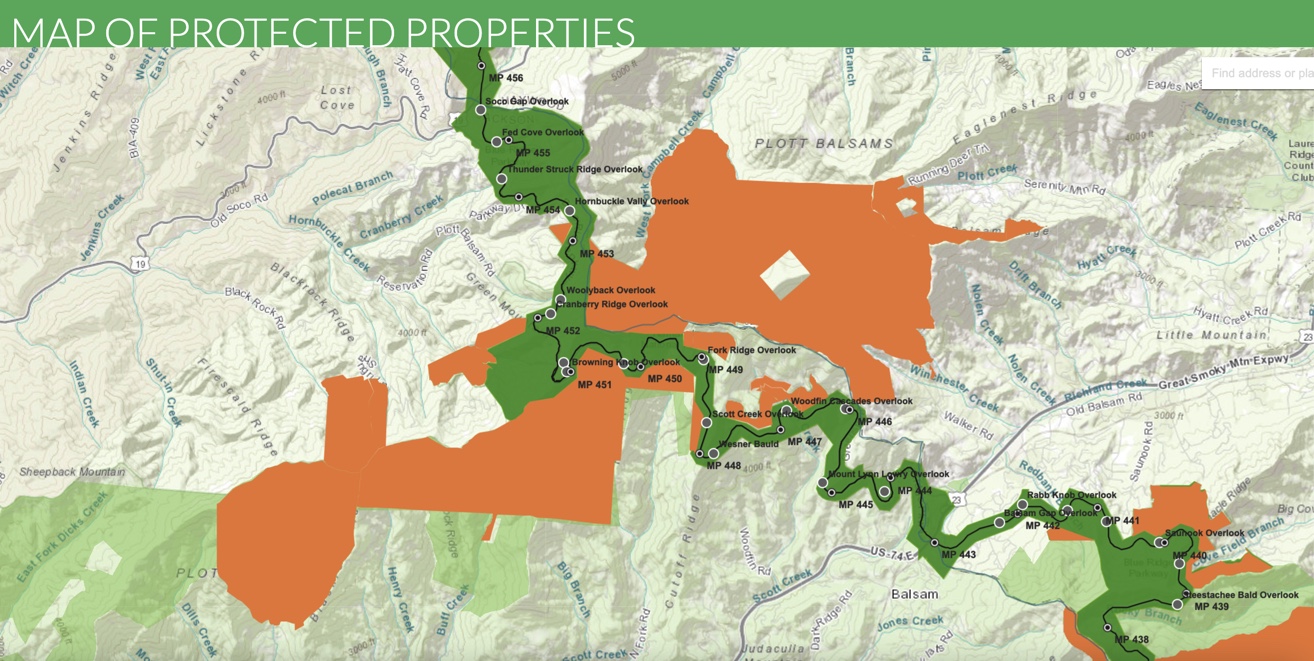 As land trusts expand protected land around Waterrock Knob at Milepost 451 on the Blue Ridge Parkway, conservation partners and community members envision a model for economic growth, environmental protection, cultural vitality and research-driven decisions on land use and planning. Local communities including the tribal councils, local governments, business owners, and families are committed to conserving the exemplary ecosystems and biological communities that are still intact in this area of the Southern Appalachians.
As we advance our conservation goals, partners recognize the need to develop a holistic vision for sustainable recreation and tourism, regional trail connections, and opportunities for immersion into the rich Cherokee and Appalachian cultural heritage of the region.
Conservation Driven by Community Needs
Together, we will shape the future of the region, the stories it tells, and how community members and visitors can benefit from the creation of this recreation destination. The goals of the partnerships being built around Waterrock Knob are driven by a commitment to community health, climate resilience, and equity and inclusion.
Community: Through local community engagement in planning for the recreation destination at Waterrock Knob, surrounding communities will benefit from enhanced economic impacts generated from tourism and recreation.
Climate: The lands conserved provide flood mitigation, carbon sequestration, as well as valuable migratory routes and habitat for plants and animals seeking refuge from rising temperatures.
Equity: Waterrock Knob and the surrounding landscape is culturally significant for the Eastern Band of Cherokee Indians. By working alongside local partners, we seek to broaden youth involvement and engage Tribal members in shaping the future of the region.
To date, the partnership has successfully acquired 5,000+ acres of forested land to meet these objectives.