Uplifting communities through conservation education and recreation with Resilience Corps NC
As the AmeriCorps Natural Areas Conservation Educator Grace Sigmon helps to expand the North Carolina Zoo's education, recreation, and conservation programs in Asheboro.
Each day has something different in store at the Zoo! Grace's favorite part about her job: connecting with nature most of the day instead of sitting at a desk. She primarily helps the Zoo's Trail Team and collaborates with volunteers and her community to advocate for public trails and conservation.
Most of Grace's time consists of survey projects on animals like salamanders, turtles and nesting birds. She serves her community by combining environmental education, land maintenance, and wildlife observations by:
Planning and hosting guided hikes on Zoo trails and nature preserves
Aiding in routine trail maintenance and building new trails
Creating children's programs about conservation in person and online
She wants people to know conservation isn't a lonely job. In fact, communication is one of the most valuable skills to have. "Conservation careers require team effort in order to achieve goals. It takes both people within and outside of this field to make a positive impact for the sake of wildlife, the environment, and humanity," says Grace.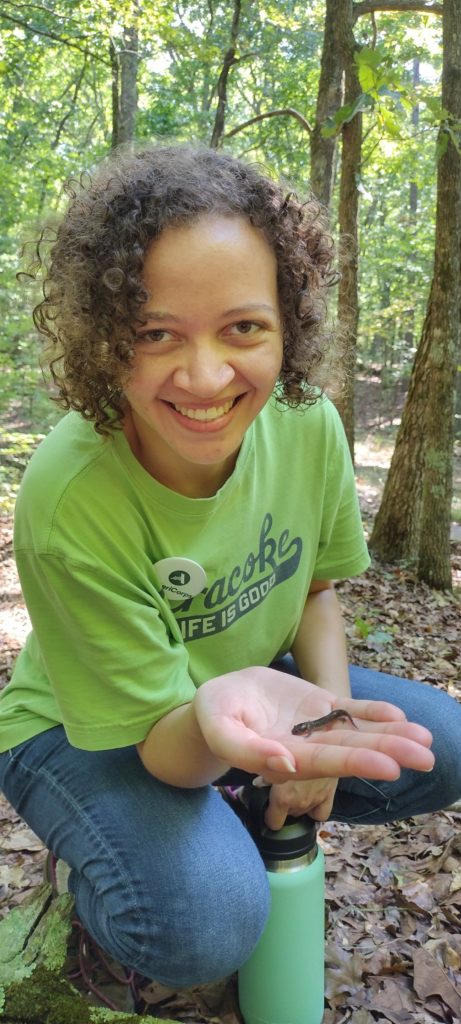 A lot of Grace's work with AmeriCorps has taught her the value of quality over quantity by finding a balance between downtime and work. She says it's easy to accept too many tasks, but when she takes on fewer jobs in a day, her projects and wellbeing flourish.
The benefits of conservation have its roots in equity according to Grace. Expanding conservation means providing people with necessities so we can all fully engage in helping our environment.
"Conservation only works if everyone participates and benefits from it. Communities must be lifted up and receive the common needs that everyone requires so conservation efforts and opportunities can be established."
Thanks to her experience with the Zoo and AmeriCorps, Grace has many options for her next steps working in nature. She's confident she wants to stay in the conservation field. We can't wait to see what's to come for Grace!
CTNC's service programs allow us to provide capacity and support to resilient community partners throughout the state. To learn more about CTNC's AmeriCorps service program or apply for an open position, click here.