As much as 4% of all property in North Carolina is held as heirs' property, yet only a handful of organizations in North Carolina provide legal services to protect landowners. This land, valued at approximately $2 billion, should be retained by families instead of being lost through forced partition sales.
Thanks to the support of an anonymous donor and the NC Heirs' Property Coalition, CTNC has pledged $50,000 to fund the new Heirs' Property Project of the Wake Forest Law Environmental Law and Policy Clinic. Now, families facing heirs' property difficulties can receive direct legal services from skilled attorneys and law students. Beyond legal help, this project strives to support, train, and provide a framework for other legal practitioners, to help stem the rate of land loss in North Carolina due to forced partition sales.
Through this project, 24 Wake Forest Law students will be trained each year in practical approaches to resolving heirs' property issues, and to develop two CLEs per year to train practicing attorneys in helping families navigate the realities of communal land ownership and heirs' ownership.
This project will help folks keep property in their families, resist unwanted development, enhance their farming or forestry practices, and build wealth to weather natural disasters and economic downturn. By addressing heirs' property, families can create a legal structure for managing their land as a performing asset over the long term.
CTNC has a long history of funding innovative ideas that amplify the impact of conservation in ways that benefit communities across North Carolina. The North Carolina State Legislature has not yet adopted the Uniform Act to provide the necessary due process to protect families from forced partition of land. By designating funding to make this clinic possible, we are able to provide support to families in need so they are able to retain ownership of their land and continue to access the benefits that conservation can provide.
New Frontier For Protecting Heirs' Property
The project also builds a new node in the network of organizations tackling heirs' property issues and addressing land loss among African-Americans, Native Americans, and other disadvantaged communities in North Carolina. The Clinic will build capacity for future efforts to resolve heirs' property in North Carolina, and potentially serve as a model for other law school clinical projects in the Southeast. Organizations working on heirs' property issues, including the Land Loss Prevention Project, Legal Aid of North Carolina, and Black Family Land Trust, have supported launching a law school clinical project to reinforce their own efforts.
Working with partner organizations, the Heirs' Property Project will provide direct legal representation alongside conflict resolution and land management support. The Heirs' Property Project will assist in three ways:
By providing direct representation to heirs' property owners,
By building a pipeline of lawyers trained to handle heirs' property cases, and
By serving as a hub for research and interdisciplinary training on land rights issues in North Carolina.
In addition to producing a pipeline of students with training in heirs' property issues, the project will engage students and scholars in research on land rights' issues, contributing to practical knowledge about the prevalence, consequences, and social context of heirs' property—as well as to broader conversations about the economic, social, and political trajectory of rural spaces.
Conversations are underway as to how heirs' property issues can be included in Wake Forest Law's curriculum more generally as well. Most importantly, the project will convene expert practitioners to provide training in heirs' property and related issues to practicing North Carolina attorneys, and to foster an interdisciplinary approach to supporting rural communities as they protect and steward their land. The project will partner with other North Carolina law schools and organizations to help address heirs' property issues in the state at scale.
The Heirs' Property Project at Wake Forest will convene a Board of Advisors to provide collaboration and support to students and families. Director of Community Innovation Mary Alice Holley will represent CTNC as a member of the board.
Other coalition members have also pledged to find funding to support this effort over the next two years in addition to our ongoing effort to encourage the NC Legislature to adopt the Uniform Act for NC.

What is Heirs' Property?
When landowners die without a will, their surviving family members are each left with a fractional interest that lacks many legal protections and privileges. Such land, called "heirs' property," is concentrated in communities of color and low-income communities. Owners of heirs' property face unique difficulty improving their land, stewarding its environmental condition, and securing it against predatory development.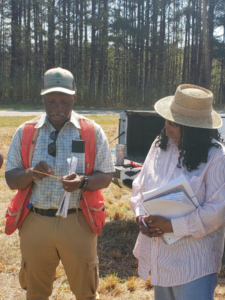 Holding land as tenants in common and heirs' property can make the property vulnerable to forced sale. When family members decide they want to sell their share, or a non-family member or developer acquires a share of the property, they may be able to force the partition of the property into smaller pieces, thus fragmenting the land. They may also be able to force the sale of the property without a right of first refusal for other family members or a guarantee of fair market value.
Holding land as heirs' property can make it difficult or impossible to access credit markets, as clear title cannot be demonstrated. It can also slow or frustrate access to government support for agriculture and/or disaster aid.
Led by a supervising attorney, this project will enroll ten or more students each semester to provide legal services to clients referred from partner organizations. The project will represent heirs' property owners as they clear title to their land, resolve adjacent legal issues like boundary disputes, and navigate state and federal land management programs—partnering with the Wake Forest Divinity School to provide clients with skilled support for family decision-making processes, as well as with environmental experts to support heirs' property owners in stewarding their land. Embracing the model of community lawyering, we also expect the project to serve as a legal advisor and first point of contact for local community organizations confronting threats to rural land and community autonomy.

Thank You to Generous Funders
Thanks to donors and supporters, the project launched in January 2023 and is funded through December 2024. Additional thanks to the Skadden Foundation, Wake Forest University's Provost Office, American Farmland Trust, and Black Family Land Trust for helping make this project a reality.
Contact for Heirs' Property Legal Assistance
Contact the Environmental Law and Policy Clinic via Jesse Williams for information about the Heirs' Property Project of the Wake Forest Law Environmental Law and Policy Clinic.
Special thanks to Jesse Williams for contributing to this article.