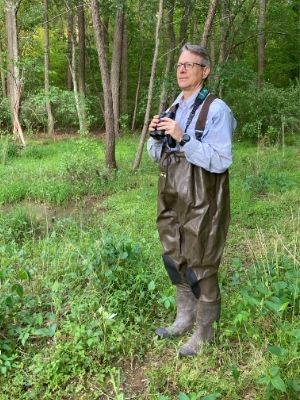 Since 2017, Conservation Trust for North Carolina Executive Director Chris Canfield has held the helm of the land protection nonprofit organization. He has steered it to face our state's greatest economic and environmental foe – climate change.
His career path wasn't always focused on conservation. His logical mind is balanced with a rational heart. After completing a bachelor's in mathematics from Birmingham-Southern College, he traveled to England to complete a master's focusing on 20th Century English Literature from the University of Oxford.
His first direct work in mitigating climate change was in his previous role as Vice President for the Mississippi Flyway at the National Audubon Society. He co-led a national coalition supporting climate resilience for the state of Louisiana and also advised on the formulation and rollout of Audubon's Birds and Climate Change Report in September 2014.
As the executive director for CTNC, Chris has been asked to sit on numerous climate resilience coalitions and state committees, including the NC Office of Recovery and Resiliency's Steering Committee advising on the creation of a Community Resilience Planning Guide.
Chris is thankful for the foundation laid by the supporters and leaders before him. "I feel fortunate that the conservation work we and all of CTNC's partners have been doing, long before most of us heard much about climate change, turns out to be an integral part of the needed response. Our preserved natural lands already provide a refuge that wildlife will need and store carbon and hold water in ways crucial for reducing impacts on communities in the future. Of course, we will need to greatly increase the pace of this work now that we understand that linkage to climate change. But we are already pointed in the right direction."
When did you first realize the real and present impacts of climate change?
Like so many of us with long careers in conservation, I knew climate change was a threat decades ago. But what turned that parts-per-million into people-per-place was my return in 2010 to my childhood home state of Louisiana. There I led Audubon's response to the BP oil spill disaster. I soon discovered that the place I spent the first ten years of my life was changing dramatically and rapidly. It is no longer theoretical when you see land disappearing at the rate of a football field every hour and see people displaced a hundred miles inland. Returning to North Carolina years later, I felt I had to share the story of what I had seen and learned. I would often hear, "yes, but Louisiana is a very different state." And in so many ways, I, of course, agreed. But enough was similar to a coastal state in the hurricane zone not to give up on pushing for a massive mobilization in North Carolina to mitigate against and adapt to the changes coming.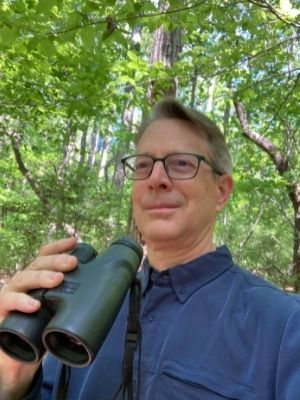 What's one thing everyone should know about climate action?
Climate change is not just an issue of science; it is an issue of community. Without strong intentions to change the reality, climate change will further stratify us into communities with more resources and options and those with markedly fewer. So any process for responding to its effects equitably has to bring all community voices to the table.
What does climate resilience mean to you?
Climate impacts are asking us to see resilience in environmental terms, but also social and economic ones. If we meet the challenge with that broad view, communities can end up not just able to survive the next hurricane, but actually fairer and more cohesive places for people in their everyday lives.
How have you seen climate change impact North Carolina?
It is increasingly well documented that we have more and stronger hurricanes and other storms and increasing droughts in North Carolina as a result of climate change. Those make the headlines. But personally, I see it in the shift in birds in my backyard, the timing of their arrival and nesting and migration. The changes in our gardening season and hardiness zone are likewise very real. I also see it (and feel it) in the increase in pollen, which has a longer and more intense season. And many places in the state I know and love that only thought about flooding in extreme conditions now see standing water and inundations without seeming direct causes – so-called "sunny day flooding."
What are actions that organizations in NC can take right now to make our state more resilient?
The most important thing is acknowledging that this is happening and that we need to respond. I'm happy to see the 2021 legislative session in North Carolina embrace reality and support more than $200 million in planning and implementation of projects to help improve the state's resilience. Of course, that is only a down payment. Louisiana has already committed to a 50-year, $50 billion plan. Many there acknowledge even that isn't enough. Studies show that as high as those price tags sound, failing to plan and act now will cost many, many times more in damages later. And I'm convinced that we can also create economic resilience through climate resilience work.
Working in climate resilience can be overwhelming. How do you keep going?
First, I try to minimize the blame and shame part of climate change work because we all are complicit out of ignorance or denial in getting us here, and second because it is exhausting. I'd rather expend the energy on working together toward solutions that help build that more resilient North Carolina community by community. That is why the work with the people of Princeville is so important to me. Together we are creating a model that we believe many other communities can be inspired by and follow. On a tough day, just thinking about the resilience and hopes of the people of Princeville gets me up and at work again.
Do you want Chris to collaborate with your organization on climate resilience, adaptation and mitigation solutions or speak at your next event? Contact Chris – chris@ctnc.org.