CTNC partners with local leaders and nonprofits to create positive change in Princeville
In 1885, a group of formerly enslaved African-Americans claimed a portion of land in Edgecombe County as their own. It was a somewhat swampy space next to the Tar River that had been largely ignored by their white neighbors. They were a people largely unwelcomed in the county seat of Tarboro, which lay just across the water. The area, now called Princeville, N.C. after a respected freed slave named Turner Prince, became the first town in the U.S. to be incorporated by African Americans.
The space that African Americans called "Freedom Hill, little more than 1.5 square miles in size, has rightfully obtained a monumental place in the African American cultural memory. But this largely overlooked parcel has experienced two 100-year floods in the last 17 years. The strength of hurricanes Floyd (in 1999) and Matthew (in 2016) caused the Tar River to overflow into Princeville homes, business and community centers.
The damage caused, and community members displaced, serve as a reminder of racism and inequality that permeates the heritage of North Carolina land and stretches back to the town's founding more than 130 years ago.
Where Climate, Community and Equity Intersect
Community Development Initiative Tyran Hill discusses how organizations can find common ground to address communities' needs.
Our work focuses on conserving land that will help communities adapt to a changing climate, seeding equity and inclusion throughout conservation, and working alongside communities to identify where conservation can meet their greatest needs. Each of our guiding priorities intersects within the town of Princeville.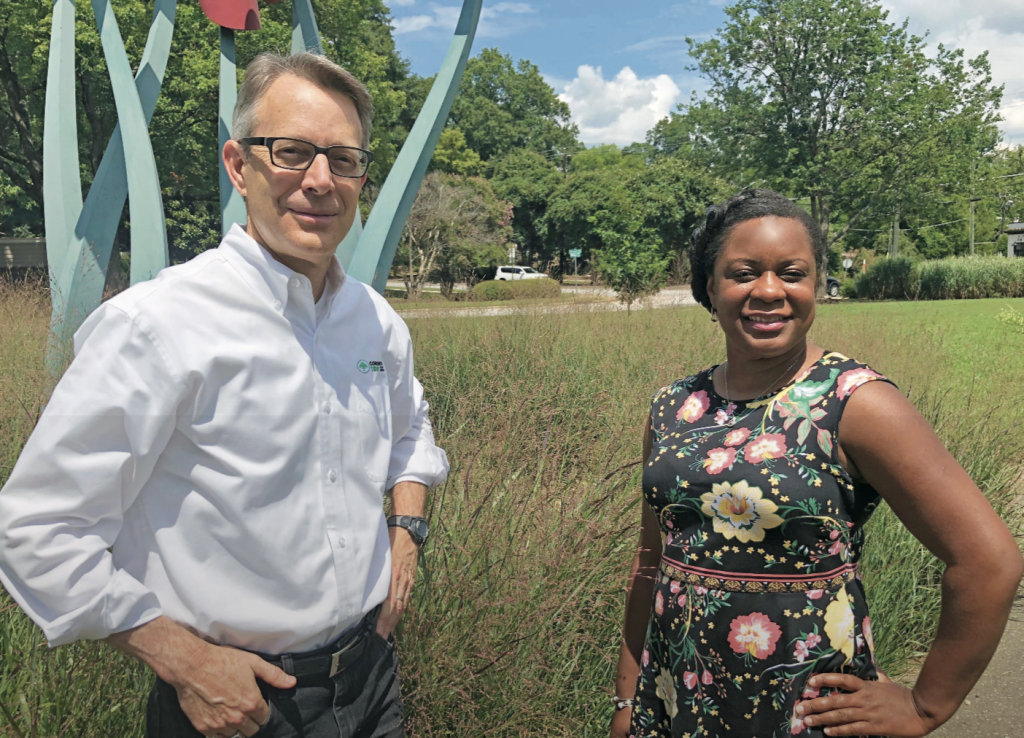 "We commit ourselves to leading with questions before answers, and to working alongside neighbors often given no voice in decisions affecting them."

— Jamilla Hawkins, Vice Chair of CTNC's Board of Directors and Chris Canfield, Executive Director of CTNC//
Through the Common Ground collaborative, Conservation Trust will partner with the NC Community Development Initiative and The Conservation Fund to work alongside the Town of Princeville and its people to plan for and eventually deliver smart land conservation. These efforts must be paired with larger community-driven initiatives aimed at bringing true restoration and resilience to the community.
By conserving land along this stretch of the Tar River, we can restore some of the natural floodplain of the region. That can help absorb water during flood events that might otherwise inundate homes and businesses.
We must deliver land conservation in ways that honor the past of Princeville while strengthening its future. We will continually advocate for land access and inclusion and grow our understanding of existing injustices within the conservation sector. And we will support work that further develops the economic, social and cultural assets of the community.
Climate change is sadly inevitable, and the effects of climate change and extreme weather events will continue to impact Princeville and its people.
But Princeville is also a place with deep resilience among the people themselves. We promise to work beside and behind our Princeville neighbors with respect, humility and a willingness to learn. Because each time the water rises in Princeville, it meets a courageous group of people that calls the land "home."
Partnerships and collaboration like this emerging one in Princeville can create transformative change to promote a more just and resilient future for all North Carolinians.