At the core of Conservation Trust for North Carolina's ability to deliver conservation success alongside community partners is a commitment to support the health and well-being of our staff and their families. In order to more fully institutionalize a values-driven approach to delivering our mission, the CTNC Board of Directors adopted an employee-forward handbook that incorporates best practices in race equity and inclusive nonprofit management.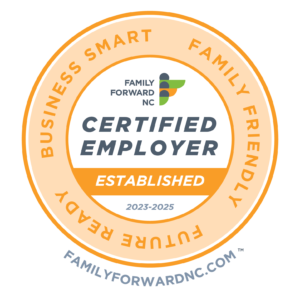 In recognition of this accomplishment, CTNC became a Family Forward NC Certified Employer through Family Forward NC. Family Forward NC, an initiative of the nonprofit North Carolina Early Childhood Foundation (NCECF), designates employers that offer policies and practices that support the health and well-being of working families and children using NCECF's Pathways to Grade-Level Reading Measures of Success and Action Framework and guidance from medical and early childhood organizations across NC and the country.
At CTNC, we support our employees and their families by prioritizing a transparent and supportive suite of policies including an expanded PTO and holiday observance calendar, 100% of health benefits offered, 12 weeks of paid family and medical leave, and a sabbatical incentive following five years of service.
Family-friendly workplaces have a competitive advantage. But more importantly, for children and families, the benefits of family-friendly workplaces are numerous and long-lasting. They include positive impacts on health, development and well-being, financial stability, and future career success.
Children whose parents have access to family-friendly benefits receive much-needed support and time with their parents during the most critical years of brain development. This leads to positive health outcomes, higher education attainment, and future career success. Pregnant workers and parents and caregivers who have access to family-friendly benefits also have improved health outcomes and are happier and more productive at work.
We're proud to be a Family Forward NC Certified Employer. To learn more about Family Forward NC, visit www.familyforwardnc.com.
Together, we can continue to ensure North Carolina is prosperous and resilient; working parents and caregivers are supported; and our state's children have a strong foundation for academic and career success in the future.