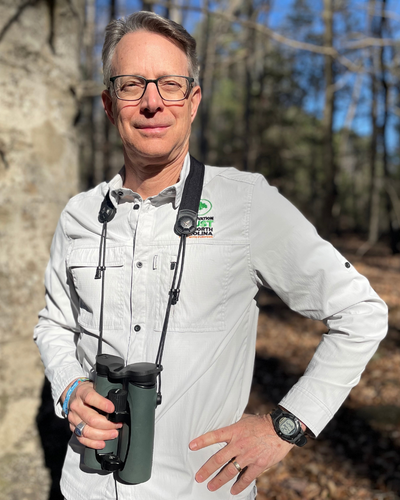 After six years serving as Conservation Trust for North Carolina's Executive Director, Chris Canfield announces his retirement. Chris will continue to serve in this role until December 2023.
With Chris' guidance, CTNC has grown its role as a conservation leader for North Carolina and nationwide. Together, the Board and staff have solidified an organizational commitment to conserving land in ways that inspire and enable people to build greater resilience to the impacts of a changing climate while ensuring the long-term financial sustainability of the organization.
Chris' legacy leaves CTNC and the conservation landscape of North Carolina on a trajectory of success. During this time, CTNC:
adopted a nationally-renowned strategic plan that centers climate resilience and race equity in conservation strategies;
established an ongoing commitment to race equity practice through a revised DEI assessment, work plan, and focus to ensure conservation strategies provide an outsized benefit to traditionally marginalized groups;
centered people and communities in the role of conservation;
balanced the organization's budget while maintaining nearly $1M in reserve assets;
laid the groundwork to launch an endowment fund to ensure the long-term sustainability of CTNC;
and oversaw the acquisition and transfer of prime conserved lands to the National Park Service along the Blue Ridge Parkway to ensure their permanent protection.
Through these foundational investments, CTNC will carry this spirit of innovation forward. The Board of Directors will be leading a national search for a new Executive Director. CTNC is confident we have built an organization that will invite a dynamic leader to guide our work into the future.
Beyond his impact on CTNC, Chris has dedicated his career to protecting our most precious natural resources. Before joining CTNC, Chris worked with the National Audubon Society for 17 years as the executive director of Audubon North Carolina and VP for the Gulf and Mississippi Flyway. Chris led Audubon's response to the Deepwater Horizon disaster. He successfully implemented Gulf-wide conservation efforts in concert with federal and state agencies, local communities, land trusts, and national funders. In 2009 he was awarded the Charles H. Callison Award, Audubon's highest recognition for staff conservation achievement.
The staff, board, and nonprofit partners will miss Chris' vision and leadership significantly. Upon retirement, Chris will focus on enjoying our state's beauty and life with his wife and family.
"I have felt the tug toward retirement for a while. My wife Kate is ready for us to share some new adventures while we have the time and health to do so. Now, with CTNC on such solid footing, I feel able and ready to take this next step."
Chris's goal as Executive Director was to build the state's most sustainable, well-rounded, people-forward organization poised to tackle the growing challenges presented by our changing climate. There will be opportunities throughout the year to thank Chris for his dedication to our organization and the state. Please keep an eye out on your email and mailbox for forthcoming announcements.
Donations to CTNC will ensure that Chris' legacy is carried through to CTNC's future. Invest in the long-term success of conservation for North Carolina communities.