This past Valentine's Day, CTNC gave another gift of land to the National Park Service. CTNC donated its 21-acre Woodfin Creek Headwaters property to the Blue Ridge Parkway. The property contains the headwaters of Woodfin Creek and offers scenic views from the Blue Ridge Parkway, the most-visited unit of the National Park Service. It is an example of a successful public-private partnership that benefits all of us who appreciate public lands and the natural beauty of Western North Carolina.
"We are extremely grateful for a generous landowner who was willing to donate property to CTNC to help us achieve our shared goals of permanently protecting the places we all love," said Rusty Painter, Land Protection Director. "The Woodfin Creek Headwaters property is a shining example of how one person's generosity can benefit many people, including generations to come."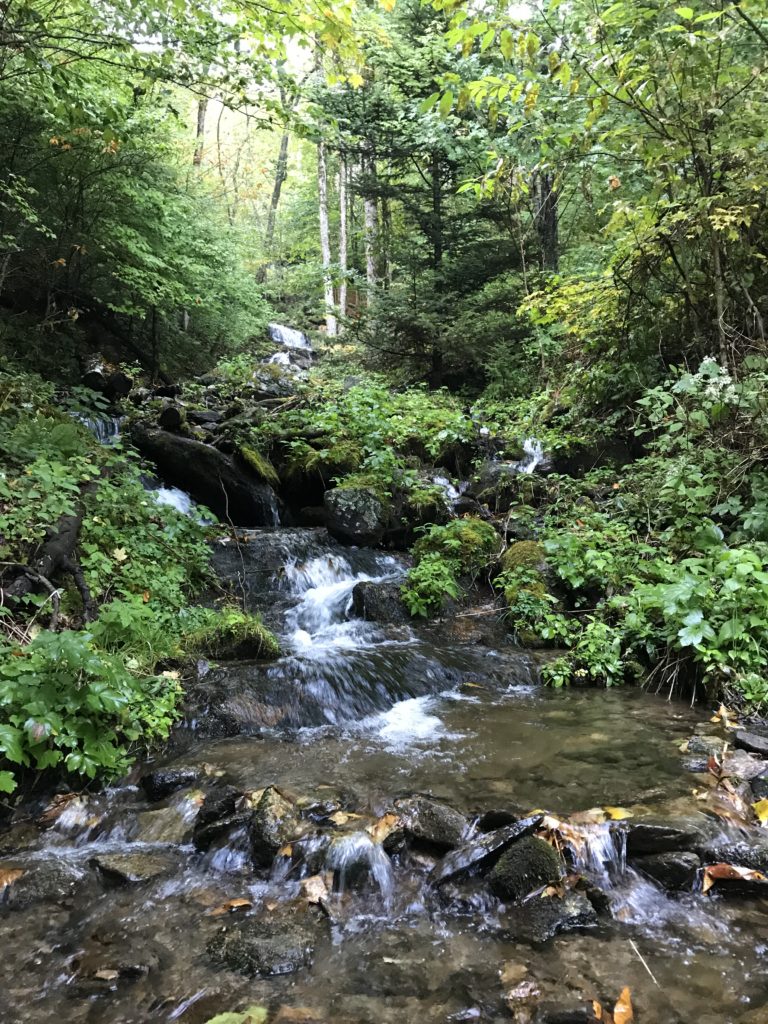 The Woodfin Creek Headwaters property is nestled within the Mount Lyn Lowry – Campbell Creek State Natural Area, as designated by the NC Natural Heritage Program. According to the site report prepared by ecologist Owen Carson with Equinox Environmental, globally-significant pockets of spruce-fir forests like those found on this property are characteristic of forest types found as far north as Canada. Mr. Carson's site report states that the property "contains a wealth of existing conservation values and has the potential to support a considerable number of rare plant and animal species."
The Woodfin Creek Headwaters is visible when driving south along the Blue Ridge Parkway toward Waterrock Knob. The tourism economy of Western NC is highly dependent on undisturbed views from the Parkway and its hiking trails and other amenities. Most land visible from the Blue Ridge Parkway is still privately owned, with no land use restrictions, leaving it vulnerable to destructive land uses that can compromise the scenic views that attract millions of visitors each year.
This donation furthers CTNC's mission to deliver conservation that is inclusive, supportive and meaningful conservation for all communities. This area contributes to so many bottom lines that impact North Carolina:
Climate Resilience – Expansion of protected land along the Blue Ridge Parkway enhances its importance & effectiveness as a south-to-north habitat migration corridor, enabling plants and animals to migrate to northern latitudes to cooler climates. The permanently protected forests on this property will continue to sequester carbon from the atmosphere.
Community – Millions of visitors to the Parkway (local and tourists) will benefit from scenic protection. Land conservation around Waterrock Knob has been a multi-partner effort over the past ten years, including local and national land trusts and the National Park Service. Expansion of this 'conservation node' enhances recreation opportunities benefiting nearby communities, including the Qualla Boundary, owned by the Eastern Band of Cherokee Indians.
Equity – While not accessible by public transportation, the Blue Ridge Parkway is free to all visitors, unlike many national parks that charge user fees.
The property was generously donated by a real estate investor based in Florida in 2017. Donations by supporters like you covered the transaction-related costs of accepting and holding the property until it was donated to the National Park Service. Thank you to all who support our work!