Using GIS technology, CTNC has created a new strategic planning tool – The Community Resilience Model.
This interactive map shows which areas across the state are the most vulnerable to the growing risks of climate change.
The map scores all 100 North Carolina counties – down to the census tract-level – on their potential to bounce back from a climate event. Scored against five criteria – social vulnerability, flooding risk, heirs property probability, anticipated climate vulnerability, and distance to CTNC land projects – the darker the red, the greater the opportunity for conservation solutions to support community resilience in the face of change.

By identifying these places, CTNC can be more strategic in delivering conservation that builds community resilience through a lens of equity and inclusion.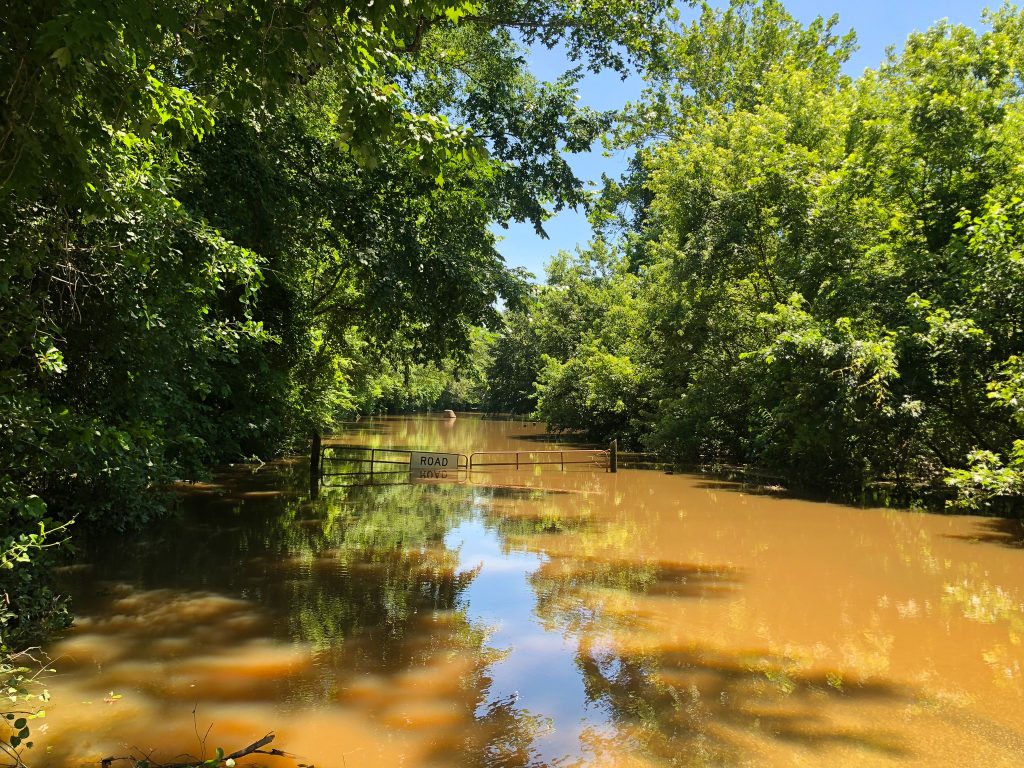 This project was inspired by CTNC's collaboration with the Town of Princeville and NC State. "We saw the importance of incorporating data into project planning," said Mary Alice Holley, project lead. "In Princeville, data compiled through the Floodprint, developed by NC State Coastal Dynamics Design Lab, helped identify problem areas in town where conservation interventions could have an increased positive benefit to surrounding people and places. We set out to identify other communities in North Carolina where similar partnerships could be established to inform how other communities could benefit from conservation interventions designed to build resilience."
Mary Alice, who serves as CTNC's Director of Community Innovation, hopes that by prioritizing conservation interventions in vulnerable places, CTNC can provide communities with proven tools to build strength before the next disaster occurs. Those tools might include acquiring land in a flood zone for increased water storage or partnering with certified controlled burn crews to reduce the fuel load in a nearby forest. In places like Princeville, conservation has become a proven tool to support people living in flood-prone areas. CTNC hopes to bring this concept and the capacity to execute projects to more communities in the coming years.
Over CTNC's 30-year history, it has developed a prioritization and scoring model that ensures Blue Ridge Parkway land protection work is strategic and effective. The Community Resilience Model brings this knowledge and expertise to measuring climate resilience and prioritizing conservation solutions where they will matter most.
The model represents CTNC's strategic plan priorities: climate change, community benefit, and equity and inclusion. By identifying these places, CTNC can be more strategic and effective in delivering conservation that builds community resilience through a lens of equity and inclusion. The map is a tool for CTNC program leaders to visualize communities in North Carolina where climate change impacts are projected to have the most significant impact and where people and places are least resourced to recover.
This map tells the story of North Carolina's potential climate future. Similar maps have been created to identify the most resilient and pristine places that are advantageous for land trusts to conserve. This map does the opposite. The new model evaluates where predicted climate change impacts – such as flooding, fires, mudslides, etc. – will have the most negative impact on North Carolina communities in need.
Mary Alice hopes that other conservation and climate organizations can embrace the value that a data-driven lens can provide to their strategic planning, project planning, fundraising opportunities, and vision for establishing collaborative partnerships. The map is being used as a collaborative planning and communication tool through CTNC's work with various coalitions, including Land for Tomorrow and the NC Heirs Property Coalition.
This tool is not recommended for other conservation organizations to use for their project planning. CTNC hopes to inspire others to visualize our strategic plan priorities and goals in a concrete way for future effective conservation interventions that benefit people and places in North Carolina.
The seeds planted with this project can grow into a more just and resilient North Carolina. By pinpointing the most vulnerable areas, funding and expertise can flood in to provide the necessary information and projects to protect communities.
Stay tuned for another story in the New Year about a mapping tool designed to serve land conservationists across the state. Through a collaboration with Duke University and the Open Space Institute, CTNC has developed a state-of-the-art resource that allows partner organizations to see how lands they have or plan to conserve can help reduce the impacts of climate change while strengthening communities.
CTNC is partnering with experts statewide to help build resilient, just communities. Together, we can be ready for whatever hits our state. It just takes data and care to make it happen.
Duke Nicholas School Stanback Fellow for Summer 2022, Chloe Ochocki, worked to develop the GIS map. Through the program, CTNC was provided Chloe's talent and time for 11 weeks to complete the project. Thanks to Fred and Alice Stanback, who fund the Stanback Fellowship Program through Duke University, and their generosity, this project was completed at no cost to the organization.