"Seeds of Climate Resilience" is a blog series to inspire ideas to help our state weather our changing climate. We can protect our families, economies, and the environment. The seeds of change planted today will help communities thrive for generations to come.
All too often, flood-prone communities are dotted with vacated lots that are scraped clean of man-made structures and left for nature to reclaim. These lots are usually deemed prone to future flooding, and the Federal Emergency Management Agency (FEMA) has given the landowners a path to sell their property and move away from the potential of repeated flooding.

What are FEMA buyouts?
Buyouts are the primary federal program designed to increase disaster resiliency.

After a presidentially-declared disaster, local officials may decide to request money from the state to purchase properties that have either flooded or been substantially damaged. The state chooses to offer buyouts using FEMA's money through its Hazard Mitigation Grant Program to reduce future disaster losses.
Buyouts are voluntary, and no one is required to sell their property. As part of the federal buyout program, the area is deed restricted and cannot be developed with permanent structures in the future. Existing properties and structures are demolished, cleared, and permanently maintained as green space by the local government.

The voluntary buyout program gives property owners the option to sell their property and move away from the potential of repeated flooding while reducing property damages and expenses incurred from flooding. The flood buyout program can be an extremely useful tool for communities recovering from a natural disaster.

How does it help lessen climate change?
As our climate changes, communities are experiencing more frequent and severe rainfall as well as greater swings between rains and drought. Creating permeable spaces designed to capture water benefits people, plants, and wildlife.
Once homes are bought, the land is vacated and development rights removed. This provides communities with an opportunity to restore the land to a natural space that can be designed to store water and be flooded again while keeping future residents out of harm's way.
North Carolina relies on FEMA-funded buyouts to create more open space and reduce future disaster risks.
What if these abandoned spaces were given new life through conservation work?
Land where buyouts occur is eventually deeded over to the town or other local government agency. The rules say that such lots can never be built on again. Too often they remain vacant and are seen as a blight to the remaining community members. But there are other options.
Organizations and local governments can sometimes turn these buyout lots into community use spaces. While these spaces are not safe for human habitation or businesses, with a little imagination, they can be transformed into spaces that support a thriving community. Communities where voluntary buyouts have occurred then have an opportunity to convert that land to a conservation use like a public park, managed wetland, community garden, or other non-permanent use.
North Carolina Success Story: Princeville
Finding effective land uses for FEMA buyout properties is a cornerstone in Princeville's flood mitigation strategy.
In a project funded by an EJ4Climate: Environmental Justice and Climate Resilience grant from the North American Commission for Environmental Cooperation and EPA, CTNC will work with the Town of Princeville to convert vacant and underutilized parcels to conservation benefits, including managed wetlands and a model community garden. This new grant program addresses environmental inequality and promotes community-level innovation and climate adaptation. The leaders and residents of Princeville hope this will become a replicable model that flood-prone communities across North Carolina will implement to protect their residents from the damage caused by severe flood and rain events.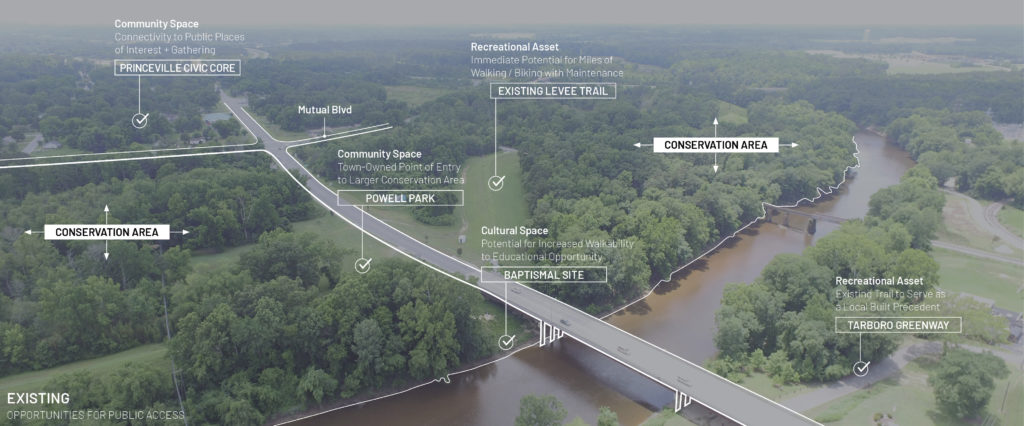 In 2021, the NC General Assembly included over $200 million in the state budget to fund resilience projects that will aid communities in addressing flooding and building resiliency through conservation solutions.
How can citizens help determine how vacant land created from buyouts could be used or maintained?
Advocate with your local elected officials for shared community green space and conservation projects on vacant and underutilized land owned by your city, town or municipality. Where possible, a local land trust or conservation organization may offer programs to support this effort.
Over the past 20 years, The Land Conservancy of New Jersey has worked with communities impacted by ongoing, damaging storms. In many of these municipalities, FEMA cannot provide the relief residents need to leave their properties and settle elsewhere. The Land Conservancy office worked with these towns, the State of New Jersey, and homeowners to purchase more than 200 homes and convert the land to open space. Restoring the land to its natural condition provides additional capacity to hold stormwater, offers safety to residents, reduces further loss of property, and saves the lives of emergency responders who continue to put themselves in harm's way during these dangerous situations. It creates a park where none existed before and answered a community's needs to reduce the harmful and serious effects of repetitive, overwhelming storms in some of our most vulnerable neighborhoods.
Learn more about CTNC's efforts to conserve land in watersheds as a climate mitigation tool protecting NC communities.
SOURCES: