"Seeds of Climate Resilience" is a blog series to inspire ideas to help our state weather our changing climate. We can protect our families, economies, and the environment. The seeds of change planted today will help communities thrive for generations to come.
Rain gardens offer an attractive and effective solution to address flooding and increased rainfall on a property.
According to the North Carolina State Climate Office,
Heavy rains from hurricanes and other weather systems will become more frequent and intense. Annual precipitation is also expected to increase. These changes are driven primarily by increases in atmospheric water vapor as the climate warms. Extreme rainfall in North Carolina can result from hurricanes, Nor'easters, or other weather systems like thunderstorms. Severe thunderstorms are also likely to increase in a warming climate and can cause flash flooding, especially in urban areas.

https://climate.ncsu.edu/learn/climate-change/
Water containment will be increasingly important as our communities in low-lying areas or near lakes, rivers, and streams see rising waters and flooding.
What is a rain garden?
A rain garden has grasses, flowers, and shrubs that can survive in water-soaked soil after a rainstorm. Rain gardens are located in the low points of yards so that the water that runs off of roofs or driveways can be directed towards the rain garden. After the storm, the soil and plants absorb the rain, and the area dries out quickly.
A rain garden is NOT a wetland, a place for mosquitos to thrive, or difficult to maintain long-term. This garden area is dry to lightly moist most of the time. And it is naturally beautiful!
How does it help mitigate climate change?
As our climate changes, communities are experiencing more frequent and severe rainfall and greater swings between rains and drought. Creating permeable spaces designed to capture water benefits plants, wildlife, people, and the built environment.
If rainwater has nowhere else to go, it will often result in flooding or standing water. However, if rainwater is captured where it lands, it can promote healthy plants and sustainable ecosystems that provide a conservation benefit to nearby residents.
Supporting habitat: Rain gardens capture and store water after heavy rainfall. The water is held in the garden area, absorbed by the water-loving plants, and naturally filtered back into the soil.
Managing stormwater: Any water that does not infiltrate the groundwater then moves through a canal, ditch, drain, or pipeline until it reaches a larger body of water such as a river, pond, or wetland area.
Rainwater is not treated at a facility to remove pollutants before entering larger waterways. This means that rain gardens are essential to help naturally filter the water that passes through them.
This process allows communities to better manage heavy amounts of rainfall and stormwater by slowing it down and using natural spaces to provide an added layer of filtration before the water reaches your home.
North Carolina Success Story: Princeville Elementary School
After Hurricane Matthew devastated Princeville Elementary School in 2016, students had to go to schools in surrounding communities for three years until their school could be renovated and flood-proofed. Finally, in 2020, the Princeville Elementary School welcomed back its almost 200 students.

As part of a $200,000 grant from the National Fish and Wildlife Foundation and Wells Fargo Resilient Communities Program, CTNC worked with local organizations to install rain gardens at the school to capture and redirect water. Today, the gardens work to protect the school from excess water. The gardens were designed by the NC State Coastal Dynamics Design Lab and installed by volunteers from Conservation Corps NC, CTNC, NC State, M&M Landscaping Co. and residents of Princeville.
Learn more about our work in Princeville.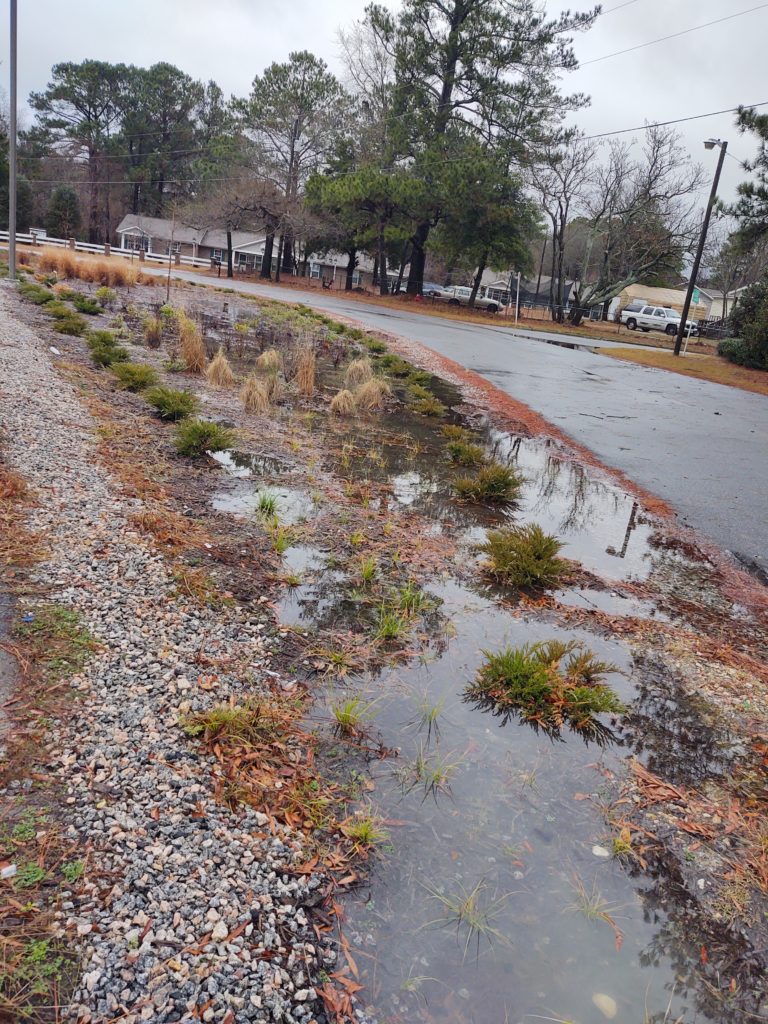 How can citizens help build a rain garden in your community?
This article from NC State has great tips to bring this climate adaptation strategy to your community:
"Why Your Yard Might Need a Rain Garden"

SOURCE: Rain Water Guide developed by NC State Coastal Dynamics Design Lab