Serving alongside communities through conservation work
For more than a decade, our service programs have sought to connect youth and young adults to the conservation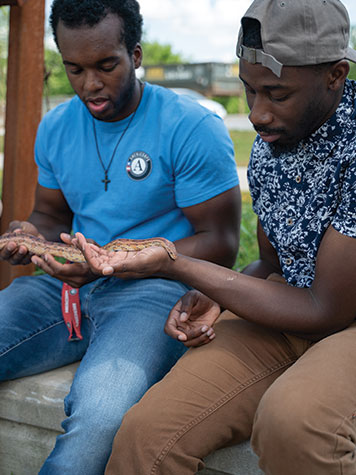 sector through environmental education, disaster response, trail building and maintenance, and diversity and equity support to other nonprofits.
CTNC is proud to deliver quality service programs in collaboration with AmeriCorps, Conservation Legacy, and partners at the state and local level. Short term, our service programs offer paid positions in conservation for North Carolina's youth and young adults. Long term, these programs offer young people from all backgrounds with a pathway to conservation, an opportunity to give back to local communities through service and volunteerism and a commitment to being stewards of the land for years to come.
Every person, regardless of race, deserves to share in the benefits of healthy lands.
By participating in CTNC's service programs, young people are able to be part of the movement to conserve land in ways that inspire and enable people to build resilient, just communities. These programs establish a lifelong appreciation for our state's natural and cultural resources and an understanding of the critical benefits that land and water conservation provides.
Dig into each of our service programs: