Conservation Corps North Carolina empowers young adults to enhance North Carolina communities through meaningful outdoor work.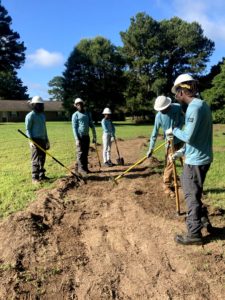 In order to meet local communities' needs through conservation service, Conservation Corps North Carolina (formerly North Carolina Youth Conservation Corps) hires young people to expand, maintain or even restore access to conserved lands so that more North Carolina families can connect with the outdoors.
CTNC partners with Conservation Corps North Carolina in our effort to build resilient communities throughout our state. Most recently, we hired Tarboro High School students to build a network of walking trails and rain gardens in Princeville, N.C.
Conservation Corps North Carolina (CCNC) is a program of Conservation Legacy that partners with Conservation Trust for North Carolina, Appalachian Conservation Corps and public land managers in North Carolina to create and maintain outdoor spaces for public benefit. CCNC engages motivated young adults, ages 16-27, to complete challenging and impactful conservation service projects throughout the region. Projects may include trail construction & maintenance, habitat improvement, hazard fuel reduction and ecological restoration. Crews may also complete technical and/or specialized projects depending on project partner needs, including disaster relief.
Program Goals:
Empower youth and young adults to serve their community through conservation work
Support trail construction and ecological health of North Carolina's public lands
Improve and expand access to protected natural areas
Are you ready to serve?
Click the button below to find about open positions in NC.