Each CTNC property is a commitment to conservation of land in perpetuity
"We're in this forever. It's about the work that's done after the signing of the documents. After the glory and success of protecting a new property, the real work begins. We've made a commitment to the donors, landowners and government agencies to uphold the conservation values of every property we protect."

– Land Protection Director Rusty Painter
It is always exciting to share each new conservation success with our supporters. Once an acquisition is closed or a conservation easement is recorded, behind the scenes, the real work to steward land begins and, where we hold the land or easement forever, lasts in perpetuity.
CTNC is driven by a goal to be good stewards of more than 30,000 acres currently under our protection so all people can share in the benefits that land provides. These 77 properties require annual inspections, management reviews and, at times, enforcement action.
Stewardship and Monitoring Ensure Resilient Lands
While we transfer many properties we acquire to public agencies, conservation easements held by CTNC on private land remain under our care and supervision forever.
CTNC is required by law, Land Trust Alliance accreditation standards, and our founding mission to steward, monitor, and be prepared to legally defend every property we own or on which we hold a conservation easement. CTNC's Stewardship, Monitoring, and Legal Defense Fund is our primary source of funding to ensure these services continue in perpetuity.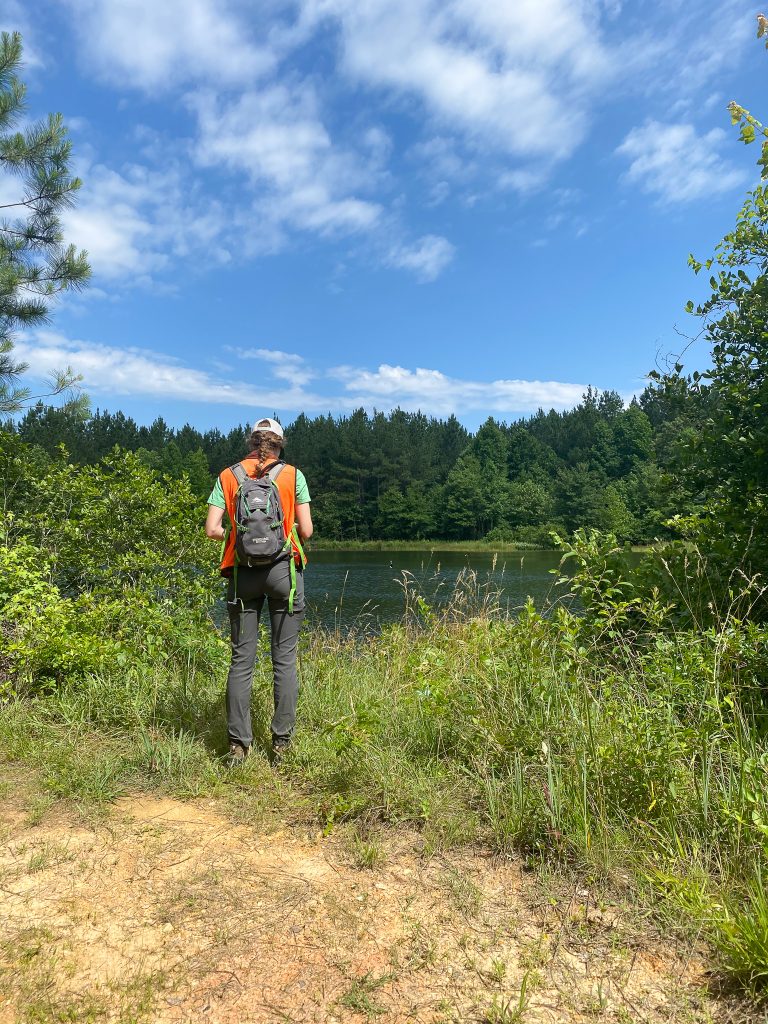 Each year, CTNC's Land Protection Director, Rusty Painter, and his summer interns travel to each property ─ from the Blue Ridge Parkway, to the Piedmont and on to the coast where we hold easements on Bald Head Island.
In 2020 alone, CTNC will monitor 31,290 acres on 77 individually protected properties across the state. This is rewarding work, but requires significant time, cost, and staff resources – nearly $30,000 annually. This includes costs for mandatory annual monitoring visits to each property, employees and the technology needed to maintain each property and providing CTNC with the financial resources to defend property rights and conservation values if needed.
Legal Defense Upholds Our Commitment to Conservation
Unfortunately, our commitment to our protected properties will occasionally require legal action to stop imminent or ongoing threats to conservation land. As partners in protection of the property, this often means working with the landowner to defend the landowner's property rights along with our conservation easement. An example might be a logging operation on a neighboring property that cuts timber from the protected property. The landowner and CTNC would pursue action as needed to recoup the lost timber value and ensure restoration of the protected property. While litigation in defense of an easement is rare, CTNC must be prepared to uphold our commitment to conservation.
"Property monitoring visits give staff and interns the opportunity to put boots on the ground, experience our conservation work first-hand, and sustain strong relationships with our landowner partners. Forming these lasting connections with the land and the people who love it is crucial to our stewardship work."

Rusty Painter, CTNC Land Protection Director
---
Our annual monitoring ensures that CTNC-conserved lands remain intact, that established conservation agreements are followed, and that the natural and scenic value of these properties is preserved, forever. Building resilient, just communities starts with stewardship.
Continue learning about our recent land protection projects driven by our partnership with the National Park Service along the Blue Ridge Parkway.