Little Glade Creek is Now a Permanent Piece of the Blue Ridge Parkway
Little Glade Creek is a permanently protected portion of the Blue Ridge Parkway thanks to private donors and Conservation Trust for North Carolina (CTNC) supporters.
This quiet nook of the parkway along Little Glade Creek near Parkway milepost 228, approximately 2 miles north of Little Glade Mill Pond, enables forests on site to sequester carbon from the atmosphere. Prevention of development and impervious surfaces on the property will reduce the potential for flooding of Little Glade Creek.
Drivers along the Parkway benefit from this protection, particularly during leaf-off seasons when development on the property would have disrupted the beautiful vistas and treelines.
"North Carolina is one of the most rapidly developing states in the country and we need to protect all the open space we can," said Rusty Painter, CTNC's Land Protection Director. "Protecting land today ensures future generations can enjoy nature in our state."
Protection of this property furthers CTNC's efforts to widen the narrow corridor of protected land between Bullhead Mountain and Stone Mountain State Parks to the south and Saddle Mountain/Mitchell River Game Lands to the north. Its addition to the Parkway further enhances the Parkway's ability to serve as a south-to-north migration corridor for species seeking a cooler climate in more northern latitudes.
CTNC purchased two adjoining properties to protect a 53-acre tract. This project shows how the protection of one property can lead to saving of others around it, amplifying the conservation benefit. CTNC transferred both tracts to the National Park Service (NPS) in fall 2022 for incorporation into the boundary of the Blue Ridge Parkway.
Previous News:
Conservation Trust Expands Protection along Little Glade Creek and the Blue Ridge Parkway
Raleigh, N.C. Another important property along the Blue Ridge Parkway is now permanently protected, having recently been acquired by the Conservation Trust for North Carolina (CTNC). CTNC purchased the 23-acre property at a discounted price. This is a strategic acquisition because the tract adjoins a 31-acre property already owned by CTNC. CTNC will transfer both tracts to the National Park Service (NPS) for incorporation into the boundary of the Blue Ridge Parkway.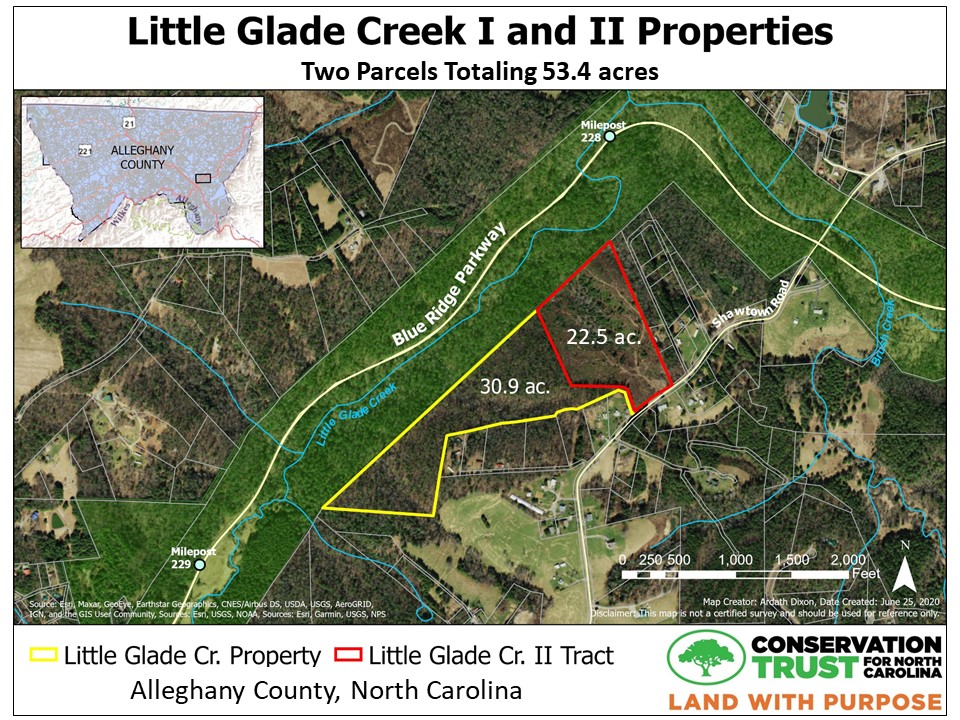 The property contains a spring that feeds Little Glade Creek near milepost 228. Both properties provide a scenic natural buffer along the Parkway and protect Little Glade Creek from negative impacts of development. Conservation of natural buffer land along creeks and streams preserves water quality and reduces flooding risks downstream. That is particularly important in the Yadkin River basin, a river system that supplies drinking water to almost one million downstream residents in 21 counties and 93 municipalities in North Carolina.
CTNC's purchase of the property was made possible entirely by a generous price reduction offered by the sellers and a contribution from a North Carolina couple with a passion for the Blue Ridge Parkway.
"Our family is very pleased to work with Conservation Trust to protect our property. Their work aligns with our hopes and vision for ensuring the land remains in its natural state. We are proud of the work the Conservation Trust is doing to use this land to extend the borders of the Blue Ridge Parkway, an amazingly beautiful road and a national treasure."

Lynne Drewes
"CTNC's Little Glade Creek project adjoins the Skunk Cabbage Wetland along the Blue Ridge Parkway," added CTNC Executive Director Chris Canfield. "Ensuring this land will never be developed, logged or otherwise degraded augments the protection of this wetland that's already provided by the National Park Service."
Conservation Trust for North Carolina has now conserved 70 properties on the Blue Ridge Parkway, totaling 34,614 acres. Blue Ridge Conservancy and Piedmont Land Conservancy also conserve land in Alleghany County.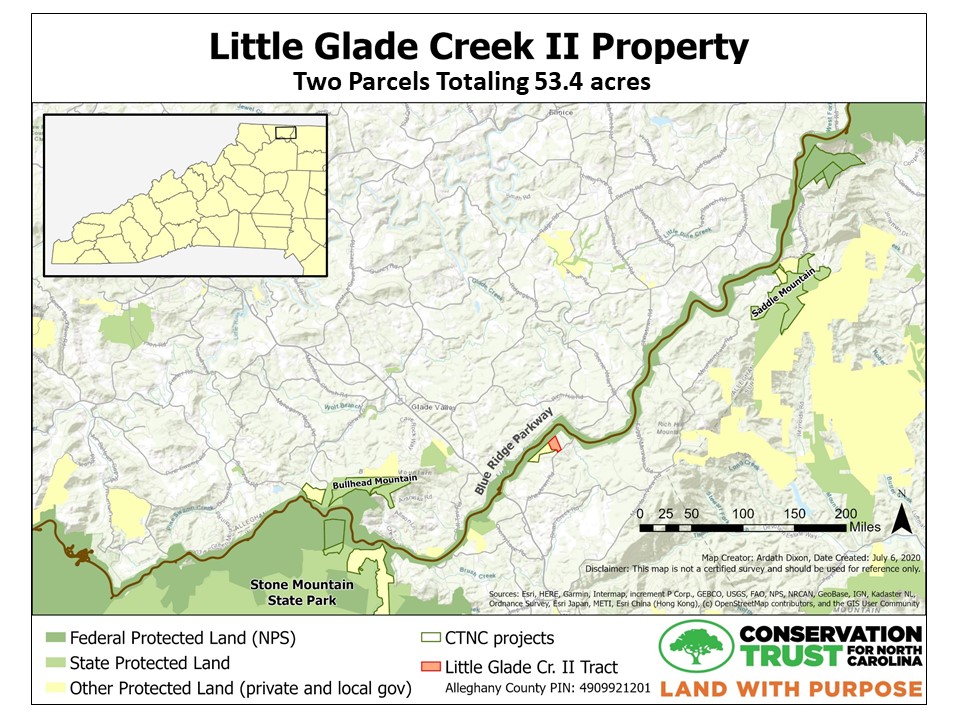 ---
For additional information contact Director of Community Innovation Mary Alice Holley.