"My end goal is medical school, but rather than pursuing clinical research, I want to focus on how the socio-political and biocultural processes shape the daily affairs of medicine: illness, pain, birth, and death," said Murphy Liu, 26, of Lenoir, North Carolina. "AmeriCorps gives me the chance to engage with the community, which, in turn, allows me to understand and address factors contributing to COVID-19 disparities and to develop sustainable health interventions. Health workers are not shaped only by where they go to school, but the environment of where they choose to practice."
Murphy is just one of the two dozen volunteers who've been serving with Wake County Public Health since January as part of an emerging partnership between the department and CTNC's Resilience Corps NC program. On any given day, these volunteers could be serving at one of Wake County's three mass vaccination sites, visiting businesses to help educate them about COVID-19 best practices for their employees and customers, distributing food staples in hard hit economic areas, and promoting testing in high infection ZIP codes around the county.
Members are currently stationed at the PNC Arena #COVID19 vaccination site in Raleigh supporting vaccine distribution. Representative David Price spoke with members Loren, Kayla, Murphy, and Mary Grace about their AmeriCorps experience and commitment to service. Representative Price asked members how they're serving North Carolinians & why they chose AmeriCorps. Watch the video now.
---
"I am thrilled that our Resilience Corps NC members had an opportunity to be recognized and represent AmeriCorps members serving throughout North Carolina by Rep. David Price during AmeriCorps Week," said Nick DiColandrea, CTNC's director of Resilience Corps NC. "The service that our members and their over 500 peers seving across North Carolina give to communities deserve our sincere and utmost gratitude. For them to have a chance to be recognized by Rep. David Price, a Congressional national service champion and recently honored National Service Hall of Fame Inductee brings me immense pride and joy. "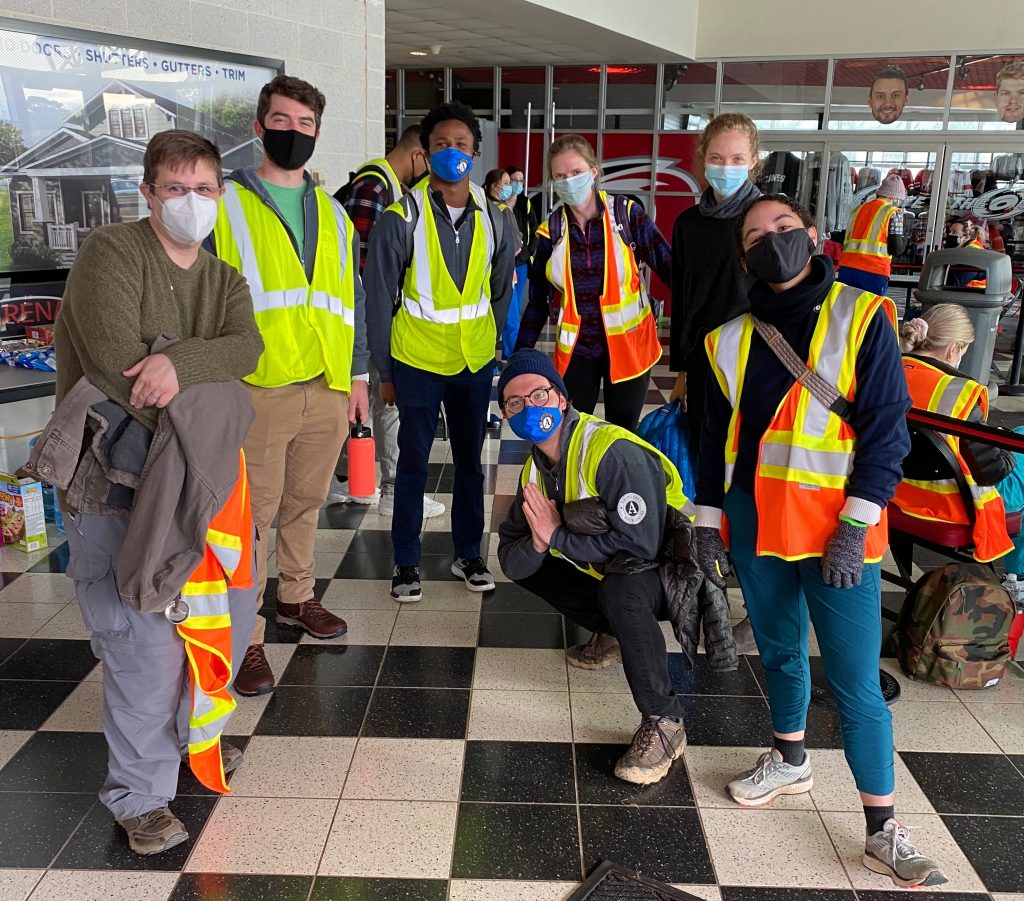 "We appreciate our AmeriCorps volunteers for committing a year of service to important COVID-19 efforts," remarked Dr. Kim McDonald, Wake County Public Health Director Medical Director Wake County Public Health Services. "They have extended our capacity to reach and serve more people in our county."
Learn more about Resilience Corps NC and how the program advances our goals to build a more resilient, just North Carolina alongside communities.