In late September, Conservation Trust for North Carolina (CTNC) joined National Park Service leaders along with representatives from the Eastern Band of Cherokee Indians and numerous partners in land conservation to celebrate the work to protect the Blue Ridge Parkway and Waterrock Knob.
We joined our partners from The Conservation Fund, The Nature Conservancy, Blue Ridge Conservancy, Conserving Carolina, Foothills Conservancy of North Carolina, Piedmont Land Conservancy, Mainspring Conservation Trust, the Blue Ridge Parkway Foundation, Southern Appalachian Highlands Conservancy, and others to celebrate the historic and current stewardship of the important natural and cultural resources along the Blue Ridge Parkway, and the generous donors who make it possible.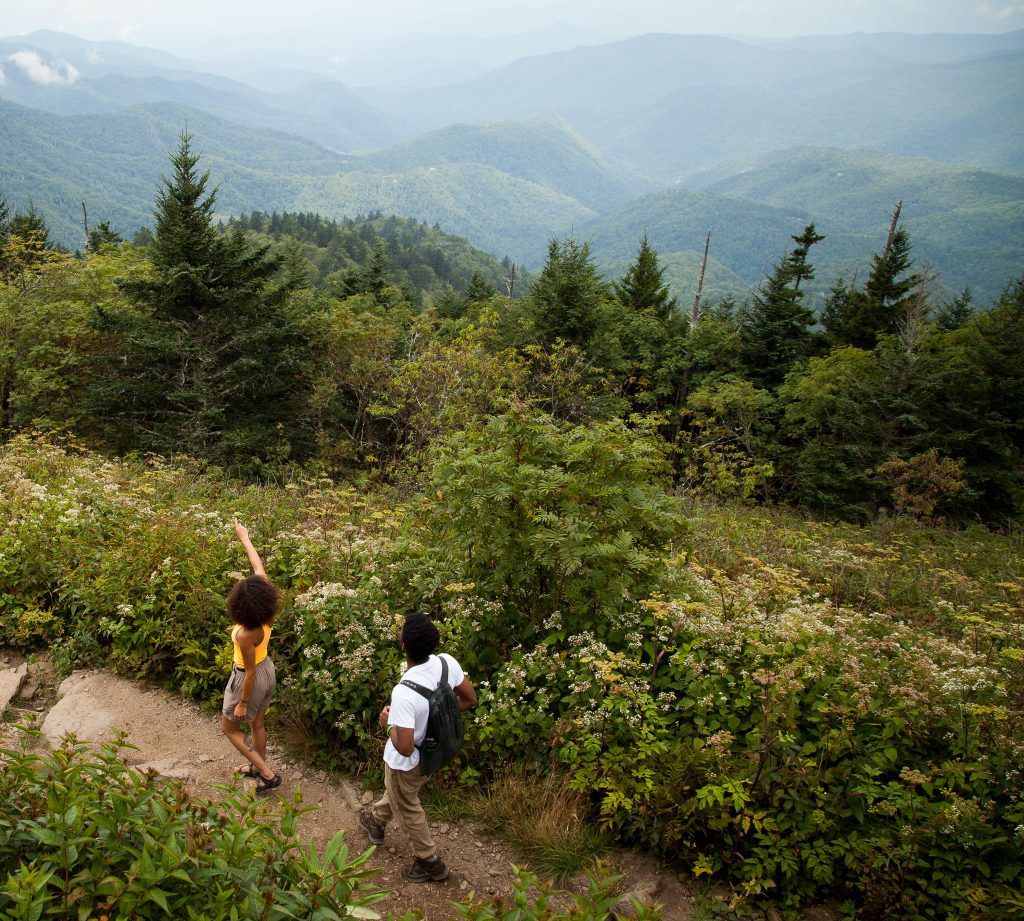 In 2016, land trust partners announced a large-scale protection effort that would ultimately expand Waterrock Knob conservation area by over 5,300 acres. To date, conservation partners acquired and donated nearly 3,400 acres to the National Park Service. More properties are slated for transfer to the park over the coming months.

The addition of all the new land now enables NPS to prepare a new strategic vision for the greatly expanded Waterrock Knob area. These lands are part of a larger set of 16 separate tracts being donated to NPS by the nonprofit groups thanks to long-term support from major private and public funding sources, including Fred and Alice Stanback and the North Carolina Land and Water Fund. Five of the 16 have already been donated by CTNC, bringing the total number of properties donated to the Blue Ridge Parkway by CTNC to 29, dating back to 1997!
Waterrock Knob is located at milepost 451.2 on the Blue Ridge Parkway and features views of a vast landscape of rare Southern Appalachian spruce-fir forests visible from the visitor center and 6,273-foot summit. It is one of the highest visitor centers along the Blue Ridge Parkway and one of the most critically biodiverse landscapes in the Eastern United States. Elk, rare salamanders, flying squirrels, and high-elevation spruce-fir forests all inhabit the area, which is also home to rich Cherokee history.

"Approaching the protection of Waterrock Knob area from a large-scale conservation perspective requires partners and communities to share a recognition that healthy ecosystems, vibrant communities and economies, cultural heritage, and local sense of place are best protected at a landscape level," said Tracy Swartout, Blue Ridge Parkway Superintendent. "The National Park Service is privileged to work alongside our partners in this work, and we look forward to how these lands will enhance and enrich the Blue Ridge Parkway experience for generations to come."
National Public Lands Day, established in 1994 and held annually on the fourth Saturday in September, celebrates the connection between people and green space in their community, inspires environmental stewardship, and encourages use of open space for education, recreation, and health benefits.